Epic Oahu—An Island For Everyone
The island of Oahu in Hawaii is many things to many people. A paradise land where adventure and romance combine with history and culture, its natural beauty has captured the hearts of visitors young, old and in-between for decades.
The third-largest but most inhabited of Hawaii's islands, they call it the "gathering place" for good reason. Oahu draws visitors in from all corners of the world each seeking their own take on paradise.
When it comes down to it taking a vacation on Oahu Island is epic and should be experienced at least once in your life...
For Epic Adventurers
From the roaring waves of Waimea Bay to a kayaking eco-tour through turquoise waters, adventure awaits at every turn. How far up the epic scale you choose to go is up to you, but the options are easily reached on an island just 44 miles long and 30 miles wide. Make your base the Sheraton Princess Kaiulani on the vibrant South Shore and you're in easy reach of everything the island has to offer.
Hiking to Ka'ena Point or the Nuuanu Pali Lookout, ATV adventures and horseback riding through tropical rainforests are all great adventures, but with 112 linear miles of shoreline, water will dominate your plans. The world's finest surfers head to the North Shore and the 'Seven Mile Miracle'; the most concentrated and celebrated stretch of world-class surf breaks on the planet.
For a calmer introduction, Waikiki Beach Services has been teaching the art of surfing since 1955, plus you can hire stand-up paddle boards, canoe and catamaran charters. As the name suggests, you'll find them on Waikiki Beach, just a short but very pleasant stroll from your hotel.

For Epic Culture Vultures
Hawaii became America's 50th state in 1959 but its history goes back centuries. Oahu itself is more than 300 years old and wears its history and heritage proudly. To understand the island's past, head for Iolani Palace in Honolulu, once the royal residence of the rulers of the Kingdom of Hawaii, now a historic house and museum.
Elsewhere, landmarks such as the King Kamehameha and Duke Kahanamoku statues stand in tribute to the people who shaped the islands, while the Bishop Museum is home to millions of exhibits covering the history of Hawaii and its people.
To truly experience the island's culture, look out for one of the festivals held throughout the year, including the Honolulu Festival in March, May's Lei Day Celebration and the Aloha Festivals in September.
And to truly immerse yourself in the island's history, make your base one of Oahu's most historic hotels. The Moana Surfrider, a Westin Resort and Spa, is Hawaii's oldest resort still in operation, 'The First Lady of Waikiki' having opened her doors in 1901. The Royal Hawaiian is younger, having opened in 1927, but similarly impressive.
For Epic Families
Oahu Island is effectively a large, sun-kissed playground for families, a place where science, nature and giant sandcastles create memories that will last a lifetime. Whether you're descending into the depths in a Pearl Harbor submarine, 'dancing' with dolphins at Sea Life Park or ticking off all 905 animals at Honolulu Zoo, family adventures are never far away.
And if the 'keiki' (kids) still have energy left at the end of all that, horseback rides at Kualoa Ranch, surf lessons on Waikiki Beach or hula lessons in a hula halau can keep them entertained right through until sundown.
The only problem with suggesting those things is that if you choose the right hotel, you may struggle to tear your kids away from its amenities. Take the Sheraton Waikiki, for example, where pools, water slides and the Edge of Waikiki infinity pool are very hard to resist. Get past those and you'll be on Waikiki Beach, where making sandcastles in the sun can be as demanding as it gets.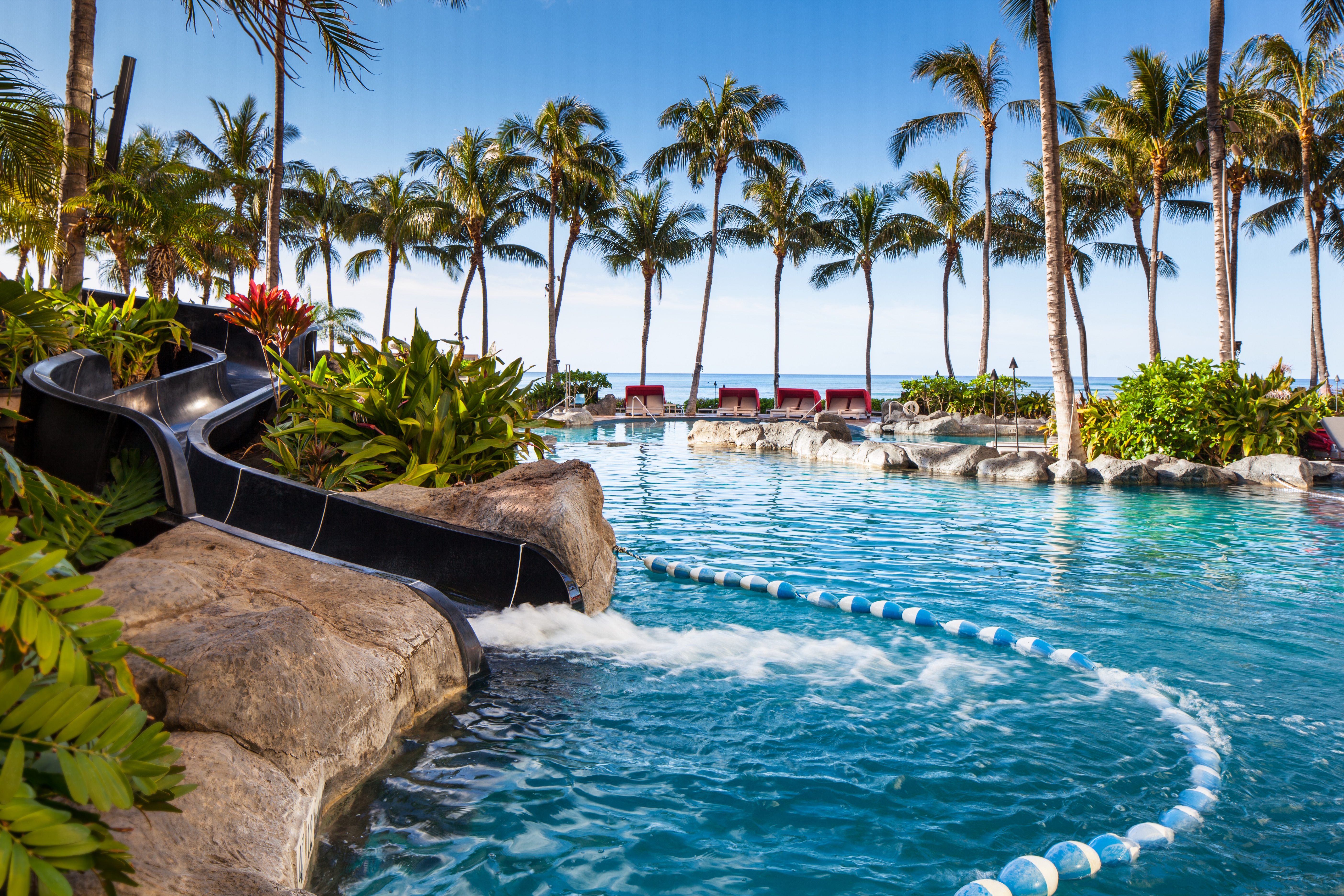 For Epic Romancers
If Cupid himself had designed an island for romantics of any age, it would almost certainly look like Oahu. From cozy candle-lit meals and star gazing on the beach, to swimming with dolphins and watching the sunset on the North Shore, the words "Aloha au iā 'oe" will never be far from your lips—in Hawaiian, that's "I love you".
To make your stay more romantic still, check in at one of the four Starwood hotels and resorts in Waikiki—where you can get married, honeymoon, renew your vows or just reconnect in epic style and luxury. Each of the four hotels has its own merits, but whichever you choose, you'll soon understand why they say that happily ever after begins on Oahu.
For Epic Relaxers
Everything you read above about adventure, history, family fun and romance is true—if that's what you want on your next vacation, Oahu offers it all in spades. But sometimes you want your vacation to center around rest and relaxation. Again, you've come to the right place.
Oahu's beaches are amongst the very finest in the world. Choose your hotel wisely and you'll find yourself overlooking the iconic Waikiki Beach, with everything an Epic Relaxer could ever want.
The Moana Surfrider boasts a beachfront location and the Moana Lani Spa, where the ocean, heaven and healing meet. The Royal Hawaiian features Jacuzzis, private beach chaise lounge and the Abhasa Spa, the only spa on Oahu that offers luxurious treatments in a serene tropical garden setting. And Sheraton Waikiki's superb Spa Khakara boasts eight treatment rooms, four private couple's treatment rooms and a relaxation area you won't ever want to leave. But if all you really want is to sit on the beach and be waited on hand and foot, head for the Sheraton Princess Kaiulani and its 'Big Kahuna Beach Service', where you need not lift a finger.
Whichever of the four you choose, expect to be pampered to a state of blissful happiness.